Kent Island
Stevensville & Chester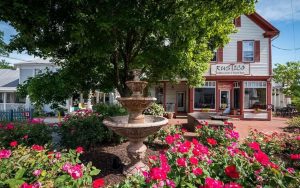 A local's Guide To Living On Kent Island, Maryland.
Kent Island is all about the Eastern Shore Lifestyle. Surrounded by water and abundant wildlife such as nesting eagles, blue herons and nature trails with deer, fox, rabbit and the elusive Black squirrel.  Kent Island allows one to simply relax and nurture one's inner soul. Kayaking, crabbing, biking, strolling on beaches, collecting sea glass is a way of life on the quiet shores of Kent Island.
Kent Island is the largest island in the Chesapeake Bay and located in Queen Anne County. It is actually composed of two cities, Stevensville and Chester.  The population of Stevensville Maryland is just under 7,000. The median home and condo value is $331,472 and the median rent is $1,584.  Chester is a bit smaller with a population of just over 4,000. Its home values are slightly lower at $311,846, which is almost the same as the median home value in Maryland as a whole of $312,500. Median rent is slightly higher in Chester than Stevensville, at $1,742.
"The island" is situated just a short distance from the Delmarva Peninsula which is comprised of parts of Maryland, Delaware and Virginia located between the Delaware Bay and the Chesapeake Bay. The William Preston Lane Jr. Memorial Bridge (Bay Bridge) spans the Chesapeake Bay linking Baltimore/Washington with the Eastern Shore and costal tourist destinations in Maryland and Delaware. The Bay Bridge is actually two bridges over 4 miles long each and is ranked among the world's longest over-water structures.
Getting Around
The main road which goes through the top part of the island is the U.S. Route 50/301 highway which connects Washington DC to Ocean City. There are two more bridges to the mainland, the Kent Narrows Bridge, which also carries the US 50/301 and the Old Kent Narrows Bridge, a drawbridge that carries the Maryland 18 into Grasonville. The Drawbridge raises on the hour to allow tall masts through the Kent Narrow channel.
To reach Annapolis, DC, Baltimore you also have the option of a commuter bus, for those commuting to work daily. https://www.mta.maryland.gov/schedule/240
Map Of Kent Island
Here you can see a map of Kent Island, Maryland and it's surrounding waters.
Schools on Kent Island
All the public schools on Kent Island are highly rated according to www.GreatSchools.org. Living in Stevensville & Chester, Maryland your children will have access to several public & private schools. They include Kent Island High School, Bayside Elementary School which is a Blue Ribbon School, Kent Island Elementary School, Stevensville Middle, Matapeake Middle School and Matapeake Elementary Schools.
There are also two private schools located on Kent Island. Lighthouse Christian Academy is grade 1–8 and is located in Stevensville and Kent Island Christian School is PreK — 6th grade located in Chester.
You can find out more information on each individual school through Great Schools https://www.greatschools.org/
Kent Island Parks
Living on Kent Island gives you access to several great parks. One of the largest is Old Love Point Park in Stevensville, consisting of 30.5 acres of sports fields, tennis courts, and basketball courts. There is also a playground for children, a picnic pavilion, and concession stands.
The Cross Island Trail connects Old Love Point Park with Terrapin Nature Park.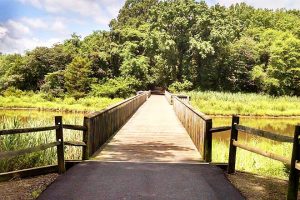 Terrapin Nature Park has 276 acres with a 3.25-mile trail through wildflower meadows, tidal ponds, woodlands, and a sandy beach on the Chesapeake Bay.
Mowbray Park, also in Stevensville, is another great spot for families. It has tennis courts and softball facilities and a large playground and is located by the Matapeake School complex.
For a dog park head to 200 Pine Street Stevensville. Kent Island Dog Park has two fenced areas, one for little dogs another for larger breeds. Each is equipped with agility equipment for your dog's pleasure. The park also offers benches, picnic tables, and a water fountain designed to serve both people and dogs!
Another great spot for dogs with their own designated swimming area is Matapeake Clubhouse and Public Beach. As well as a swimming beach, it has a picnic area and an outdoor amphitheater.
Ferry Point Park is another great spot for fishing, walking on trails, and watching the fireworks each July fourth.
Living on Kent Island also gives you access to several great fishing Piers as well such as the Matapeake Fishing Pier and boat ramp and the Romancoke Fishing Pier and which is also great for kayaking.
Things to Do Around Kent Island
In addition to the parks, there are two main walking and biking trails. The first is Cross Island Trail, which is 6.5 miles long and covers the island from east to west. It takes you through farmlands, forests, and meadows. The second is South Island Trail, slightly longer at 7 miles. The entire trail is paved and passes parallel to Route 8, running from Matapeake State Park to Romancoke Pier.
Blue Heron Golf Course is an 18 hole public course located on Route 8.
Adjacent to the golf course is the Blue Heron Nature Preserve which is a 300-acre equestrian trail along Price Creek.
If you are over 21 and looking for something to do indoors, two top options are checking out the two distilleries on the island. There is the family-run Cascia Vineyards & Winery and Blackwater Distilling, which produces vodka, rye whiskey, and rum.
Historic Stevensville Arts & Entertainment District holds special events on the first Saturday of every month from April to December. For a champagne brunch buffet or Saturday lunch with regional dishes, head to Historic Kent Manor Inn. Kent Island also has many great local restaurants to try out: https://www.tripadvisor.com/Restaurants-g5534700-Kent_Island_Maryland.html
Hotels On Kent Island
The Chesapeake Bay Beach Club and the Historic Kent Manor Inn offers many services such as a wedding venue, corporate meetings, and events,
Historic Kent Manor Inn: https://www.kentmanor.com/
Chesapeake Bay Beach Club: https://www.baybeachclub.com/
Shopping on Kent Island
Living in Stevensville & Chester gives you access to a number of shopping centers around Kent Island. In Stevensville, you have Thompson Creek Shopping Center and Kent Landing Shopping Center. There are even more in Chester, including Kent Towne Market, Red Apple Plaza Shopping Center, Kent Island Shopping Center, and Little Chester Plaza Shopping Center. The Outlets are located a short distance away in Queenstown.
Kent Island History
Kent Island is the oldest English settlement in Maryland and the third oldest permanent settlement in the entire country. It has a rich history and many of its historic sites are well preserved. https://whatsupmag.com/culture/environment/digging-into-kent-island%E2%80%99s-past/
Kent Island has a Heritage Society as well as a Treasure Hunting Club open to all. Some of the more interesting finds have been prehistoric Clovis Points dating back 10,000 years as well as tokens from the first settlement in 1631 and even arrowheads and projectiles from the indigenous Native American Tribes of the Matapeake and Susequehannocks.
Kent Island Homes
The median Stevensville, Maryland home and condo value is $331,472 and the median rent is $1,584.  Chester, Maryland Home values are slightly lower at $311,846, which is almost the same as the median home value in Maryland as a whole of $312,500. Median rent is slightly higher in Chester than Stevensville, at $1,742.
55 Plus Communities
Kent Island offers two active communities for residents 55 and over. Both communities offer maintenance-free living with a focus on social connections for the community residents.
Four Seasons of Kent Island, built by K. Hovnanian, has both single-family homes as well as Condos with a water view of Macum Creek. There are trails behind the condos to the water and a kayak storage rack to keep your personal kayak close for frequent use. Four Seasons offers a variety of models from the River, Bay and Island series, there is a home for everyone's requirements for size and price.
The community will offer a 24,000 square foot clubhouse with a panoramic water view of the Chester River for the enjoyment of all its residents. The Cross Island Trails can be enjoyed for walks, biking to either west to Terrapin Park for beach strolling or east to the Kent Narrows for dining and entertainment.
Read our full article on Four Seasons Of Kent Island Here.
Bay Bridge Cove is the second active adult community with attached condo villas. The local builder is McKee. They offer 3 onsite models, the Oxford, the Easton and the Laurel, all are single level living with an optional loft for friends and family visits. The clubhouse is a key location for creating new friendships while enjoying the outdoor pool area, playing cards, or enjoying a private massage in the massage room. Bay Bridge Cove offers easy access to main roads and the Bay Bridge.
Considering a Move to Kent Island?
If you're looking for great schools, plenty to do, and just a short commute to Annapolis, Baltimore and DC, Kent Island is a top choice. Whether you prefer moving to Stevensville or moving to Chester, reach out and I'd be happy to help.
Check Out These Current Kent Island Homes For Sale

Sorry we are experiencing system issues. Please try again.

You May Also Be Interested In These Cities