There are many different types of real estate agents who decide to REAL Broker. From experienced agents who see huge opportunities in helping grow this next-gen brokerage. To part-time agents who are trying to keep their business expenses low. To tech-savvy agents who join largely to get access to some of the latest technology in the real estate industry.
But you may be asking yourself is REAL Broker good for YOUR real estate team?
In this article, my goal is to answer that question for you and outline the three types of team structures you can have at REAL Broker and the benefits or trade-offs for each of them, and go over one HUGE benefit to you for transferring an entire team to REAL Broker from another brokerage.
Real Broker Standard Team
The Standard Team is just what it sounds like and is structured very similarly to how many large brokerages handle teams.
Each member of a standard team only has to pay REAL Broker, LLC a half cap of $6,000 while the team leader has to pay a full cap of $12,000.
There are some minimum requirements in order to create a standard team at REAL.
The team leader must have closed at least $5M in production in the previous 12 months.
A minimum of 25% of the team members' commissions must go to the team leader in addition to the 15% going to REAL Broker.
A Team Agreement signed by the team leader and member must be on file with REAL Broker.
And that's it. The Standard Team is very similar to how most brokerages handle teams.
Real Broker Domestic Team
A domestic team is most commonly a husband and wife but can also be related family members. With this type of team, the two agents will share 1 $12,000 cap at REAL. You will also share a single revenue share stream, equity positions, and one Skyslope & Chime account.
So essentially they will treat both agents as if they were a single agent. The maximum number of agents who can be on a domestic team is just 2.
If you are a husband & wife team or some other type of related team and your current brokerage does NOT offer domestic teams, joining real could be a huge opportunity to SAVE MONEY!
REAL Broker Marketing Group
The third type of team at REAL is a Marketing Group. This is a pretty unique form of "team" at REAL which the vast majority of brokerages do not offer.
Essentially every member of the team still pays a full cap and operates as if they were a solo agent BUT everyone in the group does share marketing and sells under the same brand or team name.
There is no official team agreement on file with REAL Broker but you can have your own agreement between you and your team members which may cover marketing costs or referral fees.
You are probably asking yourself, "If everyone has to pay their own full cap, what is the benefit of joining a marketing group?" Well, there are a couple of good reasons why.
As an example, I own the website www.LivingInMaryland.com and put out articles and videos about living in various cities in Maryland. However, I obviously do no cover the entire state of Maryland. So I could create a marketing group and add other agents to my group and website who are in Maryland. This way I can tell any new lead I get "great, I have an agent on our team who covers your area". So essentially, I would be creating a small referral network of agents in my marketing group.
Joining a marketing group may also be a big help to a brand new agent who may not have any credibility in the industry. By joining a marketing group, they can now leverage that group's branding, social media accounts, and credibility. Instead of saying " I sold 1 home so far this year" they can say "Our team has sold 40 homes this year and closed $20,000,000 in volume so far".
With a marketing group, you can also structure your team and team agreement however you like. Since your team agreement WILL NOT be on file with REAL Broker you can have incredible flexibility with it.
If you wanted to charge your team members a $1,000 a month flat fee in exchange for Facebook ads, coaching, and branding, you could do that. Or if you wanted to charge them only 10% of every transaction, you could have that in your agreement as well.
Out of all the teams, a marketing group gives you the most flexibility but to be clear, the team members do not get a half cap like they would with a standard team.
Support For Your Team
One feature I love about REAL broker that is not talked about enough is their support. REAL has multiple ways for its agents to get support when they have a question.
This is pretty significant for team leaders because you don't ALWAYS want to be the first and main source your team members go to when they have a simple question.
Because REAL Broker put's such an emphasis on supporting its agents when they have questions, this frees up the team leader's time and makes everything run a whole lot smoother.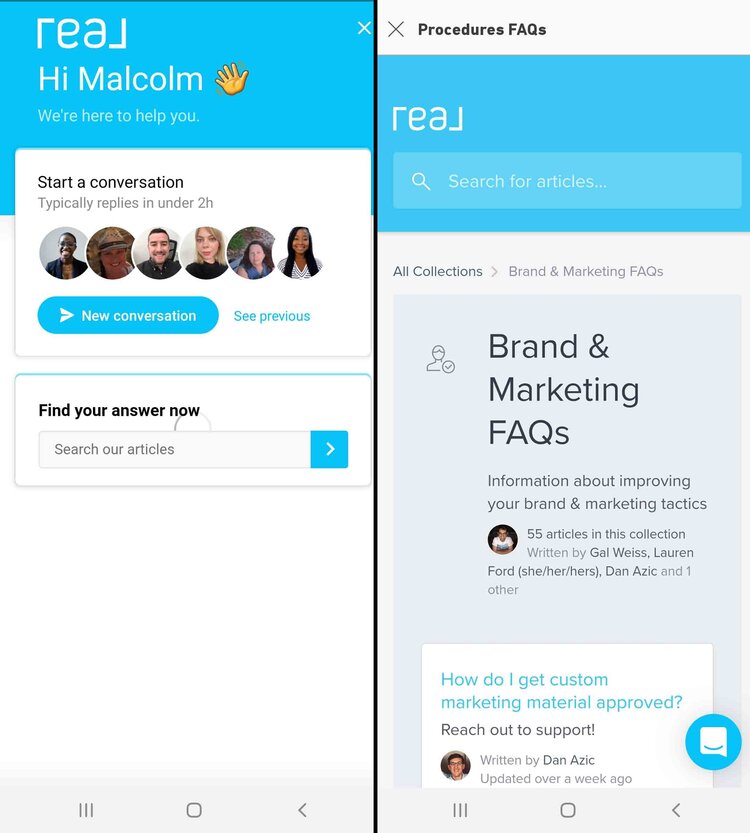 REAL App FAQ
One of the first places you should have your agents go when they have a question is the FAQ on their app. There is a very good chance others have had their exact question before.
Questions like:
"Where do I get business cards from?"
"How should I do my email signature?"
"How do I get paid?"
All of these questions can be answered by your agents searching on the FAQ on their REAL app!
App Live Chat
If the answer to their question CAN NOT BE FOUND in the FAQ on their app, then the next step for them will be to start a LIVE CHAT WITH SUPPORT, again through their REAL app.
Your agents can chat with a real human being right on their app who can answer just about any questions they might have. THIS IS HUGE !
Not only is this an advantage to YOU as the team leader because you don't have to spend your time repeating yourself and answering simple questions but your team members will also find this live chat feature very helpful.
Let's face it, your agents may even feel guilty asking you simple questions because they know it's a waste of your time so this way they will probably get an answer quicker and not feel as guilty about it.
REAL Academy
Let's say your agents don't have a specific question but instead are looking for a full walkthrough on how to submit a file for compliance or how to use the Chime CRM or how to navigate the workplace. THIS is where the REAL Academy comes in.
The REAL Academy is a collection of video training walking agents through how to navigate and use all the tools REAL provides to them. From Chime, to Workplace, to Skyslope.
On top of that, they can also find training on how to be a successful agent. You'll find training on topics like working with buyers, Facebook marketing, video marketing, selling homes, ect.
Software Support
Most of the software REAL provides to its agents is "off the shelf" which comes with several advantages compared to building software from scratch like some companies have chosen to do. One of the advantages is the excellent and in-depth support the software companies can provide.
Both Skyslope and Chime provide direct and in-depth support to their users.
If one of your agents is having trouble with a piece of software and can't find an answer in the FAQ or in REAL Academy, I would tell them to call Skyslope or Chime tech support and speak to a live person on the phone who can walk them through anything that they need.
By REAL Broker providing so many avenues of support to its agents, they are helping free up YOUR TIME AS A TEAM LEADER and helping you provide MORE VALUE to your agents.
So when your agents come to you with a simple question, your first response should be "Have you looked in the REAL FAQ, asked for help in the Live Chat, or looked through REAL Academy first?". This may seem a little condescending but this response will help train your agents to find the answers on their own and help free up your time as the team leader.
Fees For Your Team
Because cloud-based brokerages expenses are significantly less than most franchise-based brokerages, your fees, and your team members' fees will be significantly less than if your team was at most other companies.
If you have a "standard team" then your team members will only have to pay a $6,000 cap a year to REAL Broker with an 85/15 split, their E&O insurance is already paid for and there are no monthly fees!
This alone can be a huge value proposition as to why an agent should join YOUR TEAM instead of a team at another company.
On top of this, all of your team members' fees will be the same regardless of where they are geographically located.
When I was with Keller Williams Realty, the fees for agents were determined by the individual brokers and there may be 20+ Keller William Brokers in my state alone all with different fee structures.
At REAL, you and your agent's fees are all the same regardless of where you are geographically located.
Team Scalability
Because of REAL's model of having only 1 licensed Broker representing REAL in each state, this makes it incredibly easy for you to expand your team across your state.
With a traditional franchise model, It would be very difficult for you to cooperate with other agents across your state if they were at a different brokerage than you despite being in the same company.
At REAL, if you have a standard team you can have an agent anywhere in your state join your team because you are all under the same state broker.
As you grow, you can eventually change the team structure to a "marketing group" which will allow you to partner with agents across the nation. More on that later.
At REAL, they make it easy for you to scale your team from covering your city to covering your entire state to covering the nation.
Flexibility In Team Structure
REAL Broker has designed its models with teams in mind and wants to make it as easy as possible for agents to build and grow their teams with no ceiling to their growth.
This is why they give you the flexibility in choosing between 3 different team models within REAL.
The three types of teams you can have at REAL Broker are the "Standard Team", the "Domestic Team" and a "Marketing Group".
Each has their pros & cons and are based on what your ultimate goals of your team are.
Benefits Of Transfering A Team To REAL Broker
Now there is one HUGE benefit to transferring your entire team to REAL Broker. That benefit is that they can join in your downline.
At REAL, they reward agents for attracting new agents to the company through revenue share and a free stock bonus. With revenue share, essentially they give a portion of the cap an agent pays to REAL back to the agent who most influenced them to join.
For attracting a full capper in your tier one downline, REAL will reward you with $4,000 out of the $12,000 cap they pay annually. Source.
On top of that, you can receive a revenue share for any agents THEY attract to the company and so on going down 5 tiers.
If you currently have a large team, THIS could be a huge opportunity for you!
Let's say you bring over your entire team of 10 agents and they list you as the agent who influenced them to join REAL then you would receive a stock bonus for attracting all 10 of your team members, revenue share for all 10 of your team members, and revenue share for any agents they then attract to the company in their downline.
So at REAL, you have an additional stream of income as a team leader who transfers an entire team over to REAL which you won't have at most brokerages.
This can also be a second stream of income to your team members as well. You should be encouraging all of them to talk about REAL Broker to every co-op agent they work with and encouraging them to build out their downlines.
The opportunity for additional streams of income through revenue share and their stock bonuses can be seen as a huge value add to joining YOUR TEAM at REAL broker instead of someone else's team at another company.
Retaining Agents On Your Team
A common concern team leaders often have is agent retention.  You poor all this time and energy into your real estate agents only to have them get "shiny object syndrome" and go join another brokerage or company altogether. Maybe they see a video of eXp world and want to go try it out or watch a video of Gary Keller speaking on YouTube and suddenly want to give Keller Williams a try. Many brokerages hurting for talent will even offer agents sign-on bonuses to leave one company to join another.
But because of REAL's compensation programs, they have their own form of "golden handcuffs" which will help team leaders keeping their agents on their teams and at REAL.
The first golden handcuff is the stock programs. If one of your team members is enrolled in the stock purchase program or receives stocks for capping or attracting other agents to REAL, those free stocks have a vesting period and if the agent leaves before that period is over, they are giving up those free stocks. This will make the decision for them to leave REAL much more difficult.
The second golden handcuff is the revenue share program. If the agents on your team get 1 or 2 other agents to join REAL underneath them and start receiving revenue share checks, this will become a big factor when weighing the pros and cons of leaving REAL for another company. They receive their own revenue share will not only motivate them to focus on bring in more agents for an additional stream of income but it will also make it easier for them financially to justify giving up a portion of their commissions to be on a team.
So, Is REAL Broker Good For Teams?
In my opinion, YES! In fact, I think it's one of the best brokerages out there for real estate teams!
Not only will you and your team members have access to the latest real estate technology, pay less in fees than most franchise-based brokerages but REAL also gives you flexibility in how you structure your team, allows you to easily scale your team nationwide, provides fantastic support to your team members and they give team leaders and team members additional streams of income in the form of stock bonuses and revenue share!
Next Steps With REAL
For your free REAL Broker informational packet breaking down in more detail the fees, stock program, revenue share, Elite Agent program, and more OR to schedule a 1-on-1 zoom call with myself to see if REAL would be a good fit for you, email me at [email protected]
If you are ready to join and don't have a sponsor yet, I would love to be your sponsor in the company at no additional cost to you and I will then have a vested interest in your success at REAL. When you sign your Independent Contractor Agreement (ICA), just put my name, Malcolm Lawson, down as your "Sponsoring Agent" and I will officially be in your upline!
You can join here  https://www.joinreal.com/malcolm-lawson/refer
Or check out these other REAL Broker articles I wrote:
An Honest Review Of REAL Broker
Is REAL Broker Good For Real Estate Teams?
10 Things To Do After Joining REAL Broker, LLC
Why I Left Keller Williams To Join REAL Broker